Larry Boisvert 1926-2014
Larry passed away November 27, 2014. He was our harmonica player and brought joy to all who met him. He will be greatly missed.  
Alfred (Al) Bruno 1931-2020 Al passed away November 30, 2020 at the age of 89.  He became a member of OFCRI in 1974 (#257), playing guitar in a style all his own.  Al was responsible for teaching former Music Director Chuck Morgan much about the guitar and  this is what Chuck has said about Al.
"I'll always have a fondness for Al.  His vigorous support got me into the fiddlers almost 30 years ago with a $5 garage sale guitar, enthusiasm, and love for the fiddle music I was hearing.. He became my guitar guru. We met many times at his house in Dayville where he opened my eyes to barr chords and elevated me from a 3 chord guitar strummer to something better.  Al was passionate about things: about the Old Fiddlers' Club of Rhode island, about the concept that the bass guitar (and guitar) was the heart of the fiddlers' rhythmic tempo; about holding fast for what he believed in.  He was also passionate about attending the funerals of American veterens and fiddlers as much as possible.  His idol was the great guitarist Chet Atkins, many of whose tunes he played with the fiddlers.  He could be charming and humorous"
Al will be missed by all of us who knew him.
Morris Dumont 1927- 2022
Morris Dumont passed away on February 22, 2022.  He was born in Cumberland, R.I. and learned to play the violin from his dad. He was an excellent classical violinist but also a great fiddler as well. In 1950 he married Roxie, the love of his life and they raised 5 children together. The family has fond memories of Morris playing jigs and reels while they all danced during childhood. Morris joined OFCRI in 1996. Two of his favorite solo tunes were Listen to the Mockingbird where he would often improvise various birdsongs on his violin while playing the tune. He also played a memorable version of Ashokan Farewell in the more difficult key of A. Morris was a kind and gentle man and will be missed by all who knew him.
Clair F. Hanlon 1922 – 2012
Clair F. Hanlon was born in Lake Ariel PA. He was an Amy Air Corp pilot in WW II serving with the 157 Liaison Squadron in the Philippines and Okinawa. Clair, an accomplished fiddler and won numerous regional competitions in New England and Canada. He was a respected, long-time member of various Old Time Fiddlers associations in the northeast. He loved playing Canadian fiddle tunes and especially tunes in the key of Bb. He once wowed a room full of fiddlers at a Fiddle Hell gathering with his rendition of "Bee's Wing Hornpipe".
Charlotte "Char" Hoppe 1921 – 2019
Charlotte "Char" Hoppe passed away on Sunday, October 6, 2019. She was born in Baldwinville, MA on July 19, 1921. After college she joined the United States Women's Naval Reserves (WAVES) serving from 1943-1946. Char went on to become a Physical Therapist. She joined the Bristol Old Tyme Fiddlers in 1973 and OFCRI in 1986. She attended many of our performances over the years always accompanied with her good friend Gerry LaGace.  Although she played a number of duets with Gerry, we will remember Char best for her signature tune "Darktown Strutters Ball". She will be sorely missed.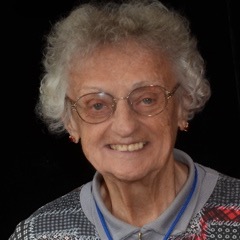 William LeBlanc 1939-2014
We were all saddened by the passing of a fine Canadian fiddler. Bill has been our treasurer for 20 years. We enjoyed his effortless style and will miss the various tunes he played so well.
Jeannette LeBlanc 1924 – 2017
Jeannette LeBlanc passed away August 20, 2017 after a brief illness. She was the wife of Bill LeBlanc. Jeanette was made an honorary member of the club in 2015 because of her long association with Bill and her love of our Club. For many years Jeannette took careful attendance and assisted the treasurer in collecting payments for performances. She will be fondly remembered by all who knew her.
Rosaire Lehoux 1920 – 2013
Rosaire Lehoux was born in Quebec and raised on a small farm in Giroux, Quebec. He shared his ability and knowledge of tunes with many of us. He had a unique style of fiddling and we remember his "Chair Dancing", tapping out the rhythm as he played! He joined the OFCRI in 1989 and was made Member Emeritus in 2012.  He will be remembered fondly by all of us. A humble man who could make the fiddle sing and dance.
Frank O. Moon  1916 – 2007
Frank joined OFCRI and the age of 17. He made such an impression on his elders that four years later he was elected club secretary and subsequently held this office until his death seventy years later. He was the acknowledged best fiddler in the Club, universally admired by all for his gentlemanly character and modesty. Frank could effortlessly play the most difficult fiddle pieces while adding grace notes and extra flourishes. After serving his country in the Army during WWII he was back with the Club in addition to being a featured soloist with Eddy Zack and the Hayloft Jamboree. This group played frequently on Providence and Boston radio and TV stations and also made records for Decca until 1952.
Doris Moon 1925 – 2013
Doris Moon, wife of Frank Moon, passed away on Jan 25, 2013.Her beloved husband Frank was devoted to the club throughout his life and Doris was by his side making friends. Her connection with OFCRI began 83 years when her brother Albert joined in 1930. She attended nearly every concert not only during 38 years of marriage, but also for 20 previous years during her courtship with Frank. She was made an honorary member emerita of OFCRI in 2012.
Dave Mullen 1939 – 2018
David passed away April 8, 2018 after a brief illness. He joined the OFCRI in 2001. He played several instruments for us, but he was a fiddler first. Chinese Breakdown and Westphalia Waltz were his two favorite tunes. Dave was an accomplished horseman. Both he and his wife Phyllis took part in many trail and driving competitions. He trained a team of Suffolk horses used to plow fields on his farm and entered the team in plowing competitions. Dave was also an expert woodworker and built a post and beam house and barn on their property in Woodstock. Dave will be sadly missed by both the OFCRI and Bristol Old Tyme Fiddlers where he was club secretary.
Barbara Neal 1927 – 2015
Our dear keyboard player, past president and chaplain passed away on February 13, 2015 after a long struggle with cancer.  She will be missed by all of us and remembered for her generous spirit, wonderful voice and piano backups.
Salvatore Ruggieri 1930-2020 Sal passed away on July 4, 2020 in Fall River, MA. He  was a longtime member of OFCRI joining in 1982.  He served as club president from 1985 to 1989. Sal played a variety of instruments including banjo, mandolin and harmonica but loved the fiddle best.  His favorite tunes were Turkey in the Straw, Back Up and Push and Bonaparte's Retreat.  He loved playing Orange Blossom Special on his banjo with Carl Rebello. Sal met Cynthia at a square dance in 1992 and taught her fiddle so she could join OFCRI. They were married in 2012. Sal and Cynthia formed "The Fiddlin' Keys" playing together at various nursing homes and senior centers in their home area. Sal will be sadly missed and fondly remembered by all who knew him.
Bob Thurston 1937 – 2012 
Bob Thurston, a former member of the Old Fiddlers Club of Rhode Island, died July 17 at his home in Central Lake, Michigan.  He was 74.  Bob was an absolutely superb fiddler, and a creative genius.  We in the Old Fiddlers Club of Rhode Island who heard his "around the world on the Orange Blossom Special" will always remember it.
Eddie Varrecchia  1921 – 2016
A quiet, gentle man Eddie joined OFCRI in 1980. He passed away on April 21, 2016. He was born on June 21, 1921 and at and early age took violin lessons from an traveling music teacher. He persisted in his music in spite of his dad threatening to "throw that damned fiddle out the window". Eddie became an accomplished violinist and played in the U.S. Army Band after serving during WWII. He also played for all of our Presidents from Truman to Nixon while a member of the Strolling Strings Orchestra, who performed for dignitaries and heads of state. Ed was once asked by President John Kennedy to "play that tune again"! He will be remembered fondly and sorely missed.